About Lynda Sperry Jardine, Harpist
I have played the harp since the age of 5. For the past 23 years I have performed professionally here on the west coast, primarily on the Monterey Peninsula, where I have lived since 1971.
*
In 2005 I became interested in the use of music for healing, and enrolled in the Music For Healing and Transition Program. Upon completing the course in 2006 I served my internship at the Pacific Grove Convalescent Hospital in Pacific Grove, California.
*
I play the 25 String Christina Therapy Harp and the 36 String Lever Harp at the patientsí bedside.
*
Please call me if you have a family member or friend who would enjoy a one-on-one musical session with the harp.
---
I can visit Hospitals, Hospice, Nursing Homes or Private Residence.
Harpist
Lynda Sperry Jardine
Certified Music
Practitioner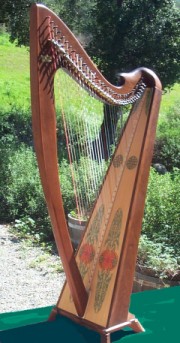 831-659-5518
LJHarpist@gmail.com
Music For Healing
And
Transition Program
www.MHTP.org
---


Site Designed by Jeremy Tompkins, Maintained by Michael Sperry
Copyright © by Lynda Jardine, Carmel Valley - ALL RIGHTS RESERVED